This week we spotlight some of Ireland's most inspiring teens in our 'Quaran-teen' feature series. They tell us about their experiences and life stories through the pandemic.
Ruadhán Gormally, 16, from Co Galway, dreams of becoming a Sesame Street puppeteer.
Ruadhán fell in love with the world of puppetry when he started watching The Muppet Show and Fraggle Rock as a child. He now builds and plays with his own puppets.
Earlier this month, Ruadhán won first prize for one of his shorts at a film festival hosted by the Western Massachusetts Puppetry Guild.
He said: "I'm still learning puppets. Before, I just built them. I usually didn't play with them. But I always wanted to work on Sesame Street, so I thought I had to do something. thing with them.
"Most of the time I don't really work with a design in mind. Normally it takes a while for their personality to come through. is personality. Some of them, you just have to look at them and there's a personality right there. Some of them, it's a little bit more difficult.
"Most of my friends think puppets are great because it's something out of the ordinary."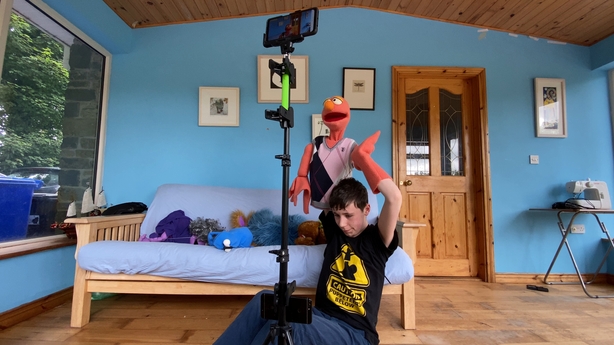 During the lockdown, Ruadhán's work caught the eye of a Sesame Street puppeteer, after his uncle posted one of his videos on Twitter.
"Warwick Brownlow-Pike – he's an English puppeteer. He plays the character Gonger in Sesame Street. He got in touch, just supporting and saying keep up the good work. Then a month or two later he told me sent a bunch of signed photos in the post. It was absolutely amazing," Ruadhán said.
Ruadhán is entering transition year at Archbishop McHale College and during this year he will continue to hone his craft.
When it comes to puppets, Ruadhán says "play is very important".
"It's a form of acting and I think I can hold my hand for a long time," he added.
Hear from the teens who featured in our previous 'Quaran-teen' feature series